The Patient Urinary Tract Infection (UTI) Information leaflet has been designed to be used during consultation with women who are experiencing non complicated UTIs. It is a useful tool for clinicians to use where the clinician feels that the patient does not require an antibiotic prescription. It includes information on illness duration, self-care advice, prevention advice and advice on when to re-consult. Use of this leaflet has been approved by PHE, RCGP, NHS Wales, Scottish UTI Network (SUTIN), RPS and BIA.
TARGET Urinary Tract Infection (UTI) information leaflet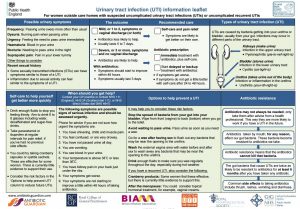 For any queries about the leaflet please contact Prof Cliodna McNulty.